Legendarni Chevo's na zapruđanskom rotoru pandemijsku je pauzu iskoristio za obnavljanje, jačanje karte, nove ljude i slastičarku Marinu Andrijanić!
Ekipa iz Chevo'sa već duže vrijeme malim koracima grabi prema ipak nešto ambicioznijoj kuhinji od one na koju su njihovi gosti naviknuli. Cijeli je taj put malo usporila epidemija, ali ovi se vrijedni ljudi itekako vesele ljetnoj sezoni te kreću, kako sami kažu "baš jako".
Dok se popunjava vinski podrum, naziru se neka nova imena u kuhinji, ali i na šanku. Po svemu sudeći, Chevo's se itekako opako sprema za proljetno/ljetnu sezonu sa svojim vrtom koji je u nastanku, a s takvim jednim vrtom dolaze i vrhunski kokteli. O toj ćemo priči ipak nešto kasnije jer smo tu da predstavimo novu slastičarku koja potpisuje deserte u ovom restoranu.
Ako ne zbog njihovog grilla i odležanih steakova, ovo ćete mjesto od sad pohoditi i zbog slastica.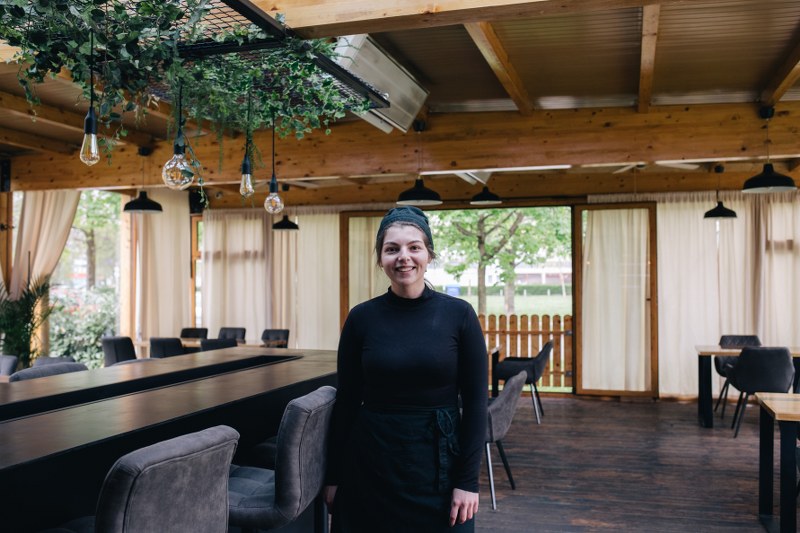 Marina Andrijanić je mlada slastičarka iz Sesveta kojoj ne nedostaje iskustva. Svoje prve slatke korake je napravila u poznatoj zagrebačkoj slastičarni Amelie gdje je provela 4 godine te od pomoćnog radnika napredovala do voditelja na izradi sladoleda. Ipak se nakon toga odlučila isprobati kako je to raditi u hotelskoj kuhinji te je sezonu provela na pripremi slastica u jednom resortu u Novom Vinodolskom. Iako cijeni iskustvo koje je stekla kroz naporan rad u takvoj masovnoj proizvodnji, sretno se vratila u kuhinju restorana i ponovno se zaljubila u svoj posao slastičara. I to u El Torru.
Jedan od najznačajnijih zagrebačkih restorana je bio Marinin dom godinu dana, a i sama kaže da je od El Torrovog pastry chefa Luke Sopte puno naučila. Ono najbitnije što je od tamo ponijela i u Chevo's je ljubav prema slasticama, kreativnost i strast s kojom nam danas predstavlja svoje slastice u ovom restoranu i novom poglavlju svoje karijere.
Mudro je iskoristila povjerenje vlasnika i danas kroz spajanje slastičarstva i kuharstva uživa u spravljanju malih čudesa za cijenu od samo 35 kn. Vješto kombinira teksture, a velika je obožavateljica mousseova i krema kojima daje drugu dimenziju, a s umacima i detaljima ostavlja na tanjuru svoj potpis.
Njeni profiteroli s dvije kreme od lješnjaka iznenađuju svojom podatnošću, a sočnom tijestu i prozračnoj kremi taman odgovaraju hrskavi karamelizirani lješnjaci.
Sve paste i kreme radi sama i žustro odbija sve prahove i već gotove kreme u svojoj kuhinji. Tako je i pasta od lješnjaka njenih ruku djelo, kao i ona od pistacije koja se skrivala na hrskavoj pločici ispunjena prozračnom kremom i, Ribafishu najdražem dijelu, onim točkicama na tanjuru – kremom od limuna koja nas odmah vodi na more, plažu i vuče na dobar koktel uz to. Ovo je naš favorit među desertima iako nas je iskreno iznenadio i Chevo's tiramisu.
Ok, očekivali smo mi tu neku bogatu kremu, malo alkohola i sve što dođe s dobrim tiramisuom, no Marina nas je i ovdje uspjela iznenaditi. Ovaj kolač svoje ime duguje upotrebi kave u receptu, no tu je da zadovolji i najzahtjevnije nepce, pogotovo ona s intolerancijom na gluten i laktozu, a nema ni jaja. Kako ni jedan desert nije bio onog okusa kako je izgledao, tako i ovaj na momente zaista podsjeća na tiramisu, no tekstura je daleko čvršća, a okus bogatiji.
Iako Marina preferira slastice bez glutena, ovaj je meni ipak podijeljen pa završavamo s crumbleom od kruške kuhane u bijelom vinu. A na tanjuru neki neobičan disk od kojeg očekuješ hrskavu teksturu, a kad zagrabiš – tamo sladoled. Savršeno kremast, bogat i u potpunosti neočekivan detalj koji se odlično nosi s hrskavim i ipak malo slađim crumbleom. Svaki desert bi pojeli očima, a ono najbitnije je da se na tom tanjuru vidi da je rađen baš za vas i da je Marina tu dala sebe.
Ove su slastice namijenjene konzumaciji u restoranu odmah po serviranju pa ih nema u dostavi, ali imate razlog više da posjetite ovu oazu steakova, a odsad i vrhunskih slastica u Novom Zagrebu.
Veselimo se ljetu u Zapruđu, uživanju u koktelima u novom vrtu ovog restorana, a naravno i novim jelima koja nas čekaju u kuhinji!